The Pinnacle
The Pinnacle provides one of the best views of Lake George you can get out of a brief hike, if you're not up for a lengthier climb like that up Buck Mountain. This trail starts a bit away the main tourist area of Bolton Landing, involving a ride up side roads from Route 9N. However, it's still fairly simple to find with a GPS handy.
Starting from a parking area off of Edgecomb Pond Road, this trail ascends approximately 1,000 feet over a distance of 3/4 mile. Most of this trail follows an old road, ascending over very typical Adirondack terrain, with mildly rocky sections scattered along a dirt and gravel trail. Partway up, you'll reach a connector trail that goes over to Cat Mountain, a nearby hike that's more difficult but offers another incredible view of the lake. Past the intersection, you'll come out shortly to a rocky outcropping providing a beautiful panoramic view of the lake.
Straight ahead and right below, you'll see The Sagamore resort jutting out into the lake. Across the lake, you'll see Sleeping Beauty, Shelving Rock, Buck, and other popular mountains frequently hiked on the east side of the lake.
All in all, The Pinnacle offers a brief but satisfying trek through the woods, accessible by families and those who may not be up for a more strenuous hike. Don't forget your camera (or phone) to record the view over Lake George! You can find a detailed map and other information at The Lake George Land Conservancy's page for this hike.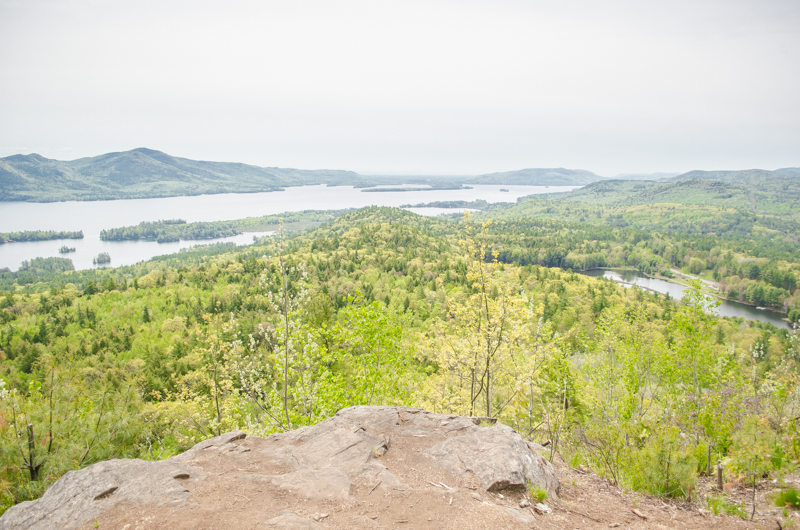 Map of The Pinnacle Trailhead