Four Easy Adirondack Hikes
If you're not ready to tackle a rigorous High Peaks trail, or you're simply looking for a relaxing walk in the woods, we've put together a list of five hikes you can try in the Adirondack Mountains of upstate New York. Getting outside doesn't have to involve an all-day trek deep into the woods; you can spend a couple of hours enjoying hikes that still provide views and a break from crowded suburbia (if that's where you live).
Shelving Rock Falls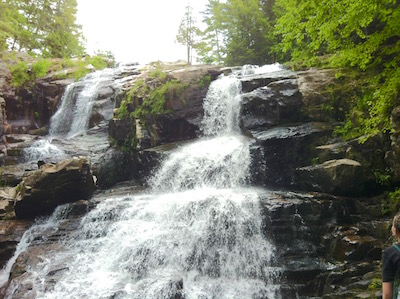 Located in the Lake George Wild Forest, this brief hike treks approximately 0.4 miles over an old carriage road to reach a waterfall tucked away in the woods. While you'll walk over some rocky sections, the trail stays relatively flat. If you keep following the trail past the falls, you'll eventually reach the shore of Lake George and a picnicking area.
To reach the trail, get off Exit 20 on I-87 and turn left to go north up Rte. 9. Soon after, turn right drive east on Rte. 149. Next, turn left on Buttermilk Falls Rd., driving around 11 miles as this road eventually turns into Sly Pond Rd. and then Shelving Rock Rd. Turn left upon getting to the Hogtown parking area and drive until you come to a bridge. The trail starts to the left just past the bridge, with a couple parking areas off the road nearby.
Shelving Rock Mountain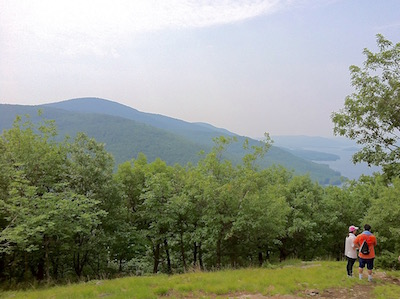 Right near Shelving Rock Falls, Shelving Rock Mountain offers a relatively brief climb up a carriage road to a view overlooking Lake George. You'll find the trail a bit further down from the Falls trail, starting to the right of the road and marked with a sign. See our guide to Shelving Rock Mountain for a map of the trailhead and a photo from the top.
Moreau Lake Overlook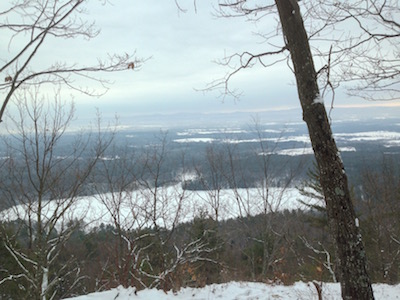 While not technically quite within the borders of the Adirondack Park, this trail offers a beginner's introduction to an Adirondack-style hike. You'll start off on a trail meandering through the woods and eventually ascend up to a point overlooking Moreau Lake. While the latter portion of this hike does entail some steeper sections and a few rocks, it's relatively accessible to people with minimal hiking experience and to elementary school age and older kids.
This trail starts from the main parking area by the beach in Moreau Lake State Park. Note that the park charges admission fees during the main season. If you're looking for a longer hike, you can also connect to several other trails within the Palmertown Range in the back section of the park.
Hadley Mountain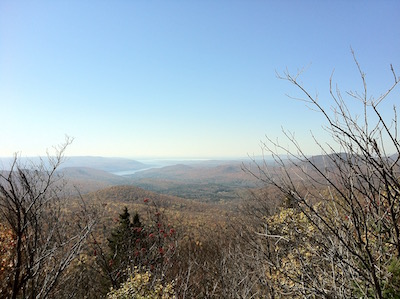 The most challenging hike on this "easy" list, Hadley Mountain provides an incredible view of the southern Adirondacks after a relatively brief climb to the summit (less than 2 miles one way). While you will encounter some steeper sections along the way, the trail is well-worn and easy to follow. This trail offers a great beginning hiking experience for older elementary school kids and younger teenagers.
At the top, you'll find a restored fire tower that you can climb for an even better view of the surrounding area. For more details on finding the trailhead, along with a photo from the summit, see our Hadley Mountain guide.